Licensing in Office 365 is often a confusing topic.What license(s) do you need? How do they work? What is the difference between Office 365 and Microsoft 365?
If you are still not sure after reading this, then please talk to us to figure out which plans will work best for your business needs.
License Types
There are two different types of licenses. These are known as per seat and per device.
Per Device Licenses
These are a single license that usually involves a license code. The license is unique to that machine
There are two types of Per Device Licenses

OEM Licenses* are non-transferable and stay with the machine for it's lifetime
Retail Licenses** can be transferred from one machine to another.

These are typically a "one-time purchase", and do NOT qualify for upgrades if a new major version is released.
Any number of users on that machine may use the licensed software.
*OEM License = Original Equipment Manufacturer. These licenses are pre-installed on the machine.
** Retail License = Over the counter software. Obtained at computer or department store.
Per Seat Licenses
These are assigned to the Users – not the machine.
Each user has their own unique Microsoft Sign-in (assigned by your system admin) which has the license attached to it.
Each user must have their own individual license, but can have multiple machines under that license.
Multiple users can use the same machine, but each MUST have their own license AND their own login that allows them to use the services on that machine.
These are ALWAYS a subscription that is paid either monthly or yearly. These license automatically qualify for all major or minor upgrades during the subscription so you are always up to date.
ALL Office 365 licenses are PER SEAT, meaning every user MUST have a license.
You can NOT share a license between users.
Having gotten this important concept out of the way, lets now look at the myriad of licenses and plans that are available. Remember that you can mix and match according to the user and/or company needs, and you do NOT need every user to be on the same plan
Microsoft 365 License breakdown
There are 3 different categories of Microsoft 365 licenses. Personal, Business and Enterprise. We will be dealing with Business and Enterprise – please note that Personal licenses can NOT be mixed or used with Business or Enterprise offerings, and are strictly limited to Personal use ONLY.
Not long back, Office 365 used to refer to everything in the online offering. Microsoft have now made changes so that the naming conventions better reflect the offerings. For the most part, Office 365 now refers to the software suite installed on your computer or the Online Apps. Microsoft 365 refers to the service.
With that said, lets dive in.
Plans
There are 4 offerings in the Microsoft 365 Business Range. These are Apps, Basic, Standard and Premium.
In the Enterprise range, we have the Enterprise Apps, E1, E3 and E5 plans – the Enterprise Apps is almost the same as the 365 Apps, and the E1 plan is almost the same as Business basic, so they will not be covered here.
We also look at Exchange only plans – these are useful for All-in-One printers that are configured to Scan to Email, or other users/applications where only email services are required.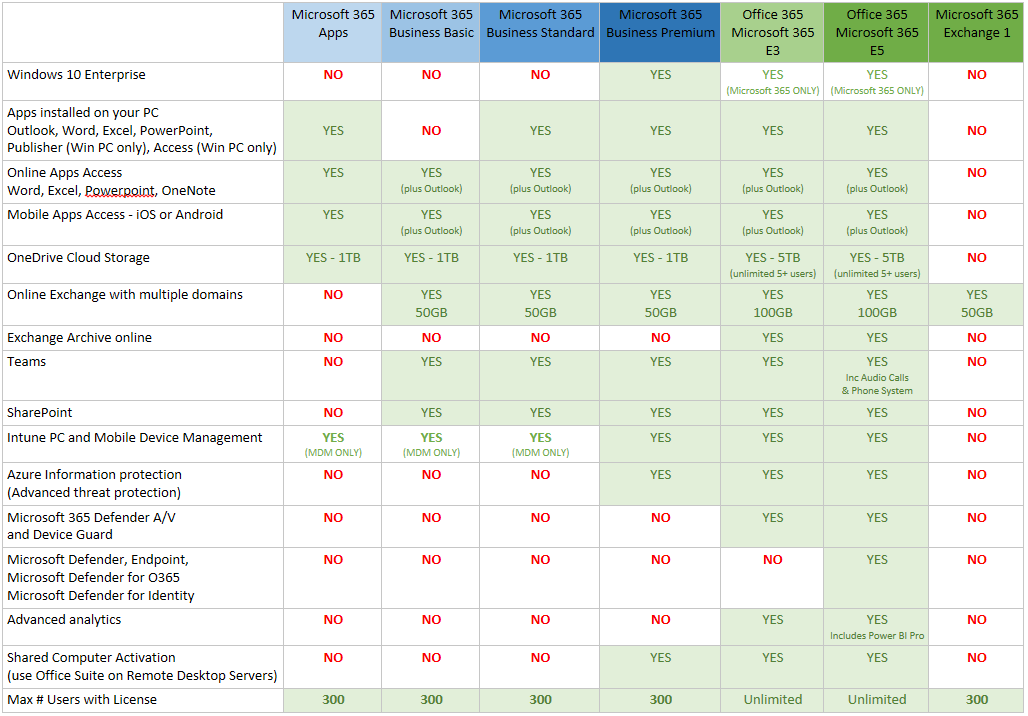 Some things to consider:
If you do not have a copy of Office OR you have Office 2013 or earlier, you should look at a version of M365 that includes the Applications on your computer. (Microsoft ceased active support for Office 2013 in October 2020)
Plans that include the Office Apps allow it to install on 5 PCs and 5 mobile devices – but ONLY if they are all being used by the same user.
Licenses should NOT be shared between users – this is illegal and outside of the licensing terms and conditions.
Most Small Business will only ever need the Business Basic or Business Standard licenses.

You should only consider Enterprise Licenses if your mailbox is greater than 50GB (max 100GB)
You should only consider Business Premium if you need to use Microsoft365 on a Remote Desktop Server and you do NOT have a volume license for Office on that Server

If you have a compatible multi-function Printer and wish to use scan-to-email functionality, you should deploy an Exchange 1 license for this device (multiple scanners can share this license).
If you have a PABX or phone system that sends voicemail to email, an Exchange 1 license is also suitable for this task. This license *can* also be shared with your MFP devices, but may lead to confusion as Scanned Documents and Voicemails are all coming from the same address in this scenario. It is better to have a separate account and license.
---
If you have any questions or wish to discuss your options, please feel free to contact us at any time. We are always ready to help you to get the right outcome for your Business.
Send your enquiry to support@prettyclever.com.au or call us on 02 9629 7733 during business hours.
PrettyClever Consulting – Making I.T. Happen.